Click on the map and start discovering the Spanish food industry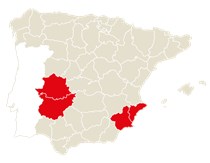 Spanish cuisine uses a wide array of spices and sauces to enhance its dishes. Spices have been used since time immemorial in Spain to season dishes, enhance their flavor and give them color. Some of them such as aniseed, mustard, coriander and fennel are native to the Mediterranean basin. In Spain the use of herbs such as basil, cumin, rosemary, thyme and oregano is also very widespread. In ancient times, magical and healing properties were attributed to some of them. Nowadays spices are used to enhance the flavor of dishes and to keep them fresh for longer.
Spain is one of the main producers of green aniseed, and the Spanish variety is considered one of the most aromatic and finest in the world. Although it is used in many dishes, in our country it is a typical ingredient in pastry and confectionery as well as in making liqueurs.
Three spices which are closely associated to Spanish cuisine are garlic, saffron and pimentón (paprika powder). Although it is usually bought fresh, garlic has been consumed either dehydrated or powdered for years, since it maintains all of its properties.
Saffron, the most expensive spice in existence, was known as "red gold" in ancient times because of its high price. Throughout history it has been used as a dye, a perfume and an aphrodisiac. Cleopatra already used it as a seductive aromatic fragrance. It was the Arabs who introduced its farming to Spain in the 10th century. Spanish saffron is recognized all over the world as the finest. It is this very spice which gives paella its typical yellow color, and it is an ingredient used both in French bouillabaisse and Italian risotto. In other European countries, like Sweden or the United Kingdom, it is used for desserts.
Saffron rose (Crocus sativus Linnaeus) only grows in areas with baking-hot summers and cold winters. It also requires flat and dry lands. Castile-la Mancha's plateau has all these qualities. The flower, having turned sterile by thousands of years of hybrids, only reproduces through bulbs, and due to how delicate it is, can only be planted and harvested by hand. Since it only flowers at dawn, it must be collected immediately so that it doesn't wither and so that its stigmas don't lose their properties.
While Spanish saffron is recognized all over the world as the finest, pimentón (paprika) is an essential ingredient in traditional Spanish dishes
Each flower produces three deep red stigmas which must be separated by hand. To make 1 Kg of saffron 85,000 flowers are needed. After drying, the saffron is ready to be sold. This complex artisanal process accounts for its high price. In his captain's log in 1493, Christopher Columbus mentioned pimentón (paprika) for the first time in history. But it wasn't until the 16th century that the monks of the Monastery of Yuste, where Emperor Charles V retired, popularized it. This specialty became so popular in Spain that by the 19th century it was as essential an item as salt and olive oil.
Pimentón is made with red peppers that are dried to the smoke of helm oak and oak timber, and then powdered. There are three varieties: sweet, sweet & sour and spicy. The main production areas are La Vera (Extremadura) whose production has received the category of Protected Designation of Origin, and Murcia, where it was also introduced by the monks of the Monasterio de la Ñora. Nowadays not only is it an essential ingredient in dishes like Galician octopus, Riojan potatoes or Madrid cocido, but it is used as condiment and preservative of such typical cold meats as chorizo and sobrasada.
The Spanish spice and condiments sector is made up by 110 companies concentrated primarily in the regions of Valencia and Castile-La Mancha. They export mainly to the EU, the USA and to Arab countries.
The role of sauces to create contrasts, soften flavors and make dishes tastier has grown more important over the past years. And although many are still prepared at home, there is an increasing number of industrial sauces which taste home made and save the consumer time and effort.
Probably the most widespread in Spain is Spanish style tomato sauce, the foundation of countless culinary creations. Its taste varies depending on its additional ingredients (garlic, onion, vinegar, sugar, spices, etc.), and is very popular among younger consumers because of its versatility and convenience. Ketchup has also become very popular, both among children and adults, and being consumed in restaurants and at home.
Mayonnaise has its origin in Mahón, capital of the island of Menorca (Balearic Islands), according to documents dating back to the 14th century. This sauce made with egg, olive oil and lemon or vinegar, was originally made with garlic – alioli, another renowned Spanish sauce, is basically garlic and olive oil beaten until they emulsify. Although in the south of Europe mayonnaise is still made by hand, industrial mayonnaise is gaining ground since it keeps much longer and the taste is now comparable to home-made mayonnaise.
The 45 companies which comprise this industry have demonstrated great versatility by launching new formulas for traditional sauces and innovative products such as sweet mustards, olive oil mayonnaises, romescu sauces, etc.