Click on the map and start discovering the Spanish food industry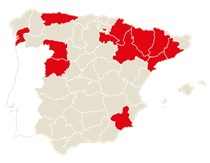 Pork meat is one of the cornerstones of Spanish cuisine, featuring in numerous dishes, tapas and snacks, forming an integral part of the Mediterranean diet, declared Intangible Cultural Heritage of Humanity by UNESCO. One example of how deeply rooted it is in our culture is the fact that la matanza, pig slaughter festivities, are still a popular celebration in a number of Spanish towns.
Although pig farming in Spain has been tightly bound to rural family economy, in the past decades its weight has steadily grown to become the powerful industry it is today. Whilst in 1954 there were no more than 9 refrigerated slaughterhouses and 615 cold meat factories, today there are almost 700 slaughterhouses, 2,400 cutting plants, and over 5,000 processing establishments. In 2012, Spanish pork production exceeded 3.5 Mill. T, making Spain the 2nd pork meat producer in the EU (after Germany), and the 4th worldwide.
Pork meat is known for being very tasty, being used both for consumption and for industrial processing. Spanish pork products are divided in two main categories depending on the race they come from. The majority is white pork, from which delicious ham, cold meats, and cold cuts are made. The rest comes from the Ibérico race, indigenous to the Iberian Peninsula, hence its name.
In Spain, about 44 million cured hams are produced annually, of which about 6 million are Ibérico, 16 million are Serrano and 22 million are cured white pork. Only those which comply with Especialidad Tradicional Garantizada (ETG, Guaranteed Traditional Speciality) regulations can be called Serrano. Iberian ham production is protected by 4 Designations of Origin (D.O.): Cerdo Ibérico, Guijuelo de Huelva, Los Pedroches and Dehesa de Extremadura.
In recent years acorn-fed Ibérico ham has positioned itself alongside the most sophisticated delicatessen products in the world. This ham is made from Ibérico free-range pigs reared in the great holm oak pastures to the west and south west of the Peninsula. Their nourishment, based on acorns, gives their meat a very distinguished and valued taste. This race's distinguishing quality is the infiltration of intramuscular fat, which gives its meat an unbeatable texture and juiciness.
Spain is the 2nd largest pork meat producer and the 5th bovine meat producer in the European Union
Spain also has a great tradition in the manufacture of cold meats and cold cuts such as paleta, cooked ham, lomo, chorizo, fuet, longaniza, salchichón, etc. These are processed by means of curing, and occasionally enriched with flour and spices such as paprika and pepper. A great number of these products have successfully been present in foreign markets for years.
Meat is by far the most consumed food in Spain. This is due to the great offer, variety and quality of the products the sector can provide. Spanish livestock is the 2nd in the EU in terms of numbers, and the meat industry is the 4th most important sector in Spain after cars, petrol and energy. Its weight in the economy is considerable: with a business of euros 21,164 Mill., it accounts for 20% of the food industry and brings 2% of GDP.
Furthermore the meat industry is the number 1 exporter of Spain's food and agriculture industry, even ahead of wine exports. In 2012, overseas sales reached 1.46 Mill. T of fresh meat and 123,000 T of meat products for a total value of euros 4,157 Mill. And international demand is on the increase.
The success of exports is due, not only to the quality of the products, but also to their safety, since the industry facilities are subject to rigorous health and sanitary controls, and many even have private certificates which guarantee the traceability of the product and its correct treatment during the process.
Spain is the 5th bovine meat producer in the EU, a sector with a great bias on export (20% of production), especially to the EU. Cattle are reared primarily in the north of Spain, due to the abundance of meadows, and in the west and south-west of the Iberian Peninsula, regions with great estates and pastures. Currently some indigenous Spanish races are experiencing a strong comeback and receiving awards for their quality and characteristics.
The farming of wool-giving livestock primarily takes place in the driest regions of Spain because they are not very demanding in terms of pastures and are very resilient to extreme climates. Consumption of suckling lamb, for example, is very popular in Castile, where it is cooked in wood ovens. Rabbit is also vey popular, and its use in Spanish cuisine dates back to time immemorial. Suffice it to say that the word Spain comes from the Phoenician termi-spn-ya, meaning "land of rabbits".
17 Designations of Origin (D.O.) across the entire national territory safeguard the quality of some of the finest Spanish meats, like Ternera Gallega (Galician veal). D.O.s aim to protect the qualities that differentiate the meat of cattle reared in specific areas, whether because they are indigenous races, because of the environment they graze in or because of the nourishment they ingest. The resulting meat is of excellent quality as well as being extraordinarily tasty and juicy.