Click on the map and start discovering the Spanish food industry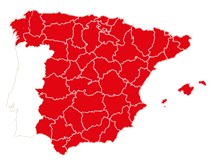 The consumption of milk and dairy products dates back to the Mesolithic, when man ceased being a hunter-gatherer and began practicing agriculture and rearing livestock. From the moment man discovered milking, goat, cow and sheep milk was considered the nourishment par excellence, source of life and strength. The Assyrians were the ones who perfected manufacturing dairy products, obtaining far more refined dairy products.
Spain, being on the pathway between Europe and Africa, suffered numerous invasions during its history. However it was able to profit from them, enriching its cultural heritage and allowing, ever since ancient times, the development of different forms of dairy consumption.
This historical heritage, Spain's uneven terrain and climate as well as the different species of livestock all contributed to a very varied dairy sector. The result is that nowadays in Spain one can find the most recent innovations and developments to enhance the fruit of the most ancestral traditions.
The cheese industry in Spain started taking off halfway through the 20th century. Traditional cheese manufacturers became small industries, maintaining that unique artisan touch nobody else could give to their cheeses. These gave way to medium and large companies, where the production techniques avail themselves of the latest developments to successfully compete, not only in the Spanish market, but also abroad.
Thus every Spanish region boasts one or more kinds of cheese, from pure sheep, goat or cow milk and developing into hundreds of different nuances and textures made from the blend of these milks, yielding over 100 recorded varieties, 26 of which are protected by Designation of Origin. Spanish cheeses have a strong personality, both in taste and texture, and even in form and shape, all of them being very different from each other.
The highest selling cheese in Spain, and the best-known one beyond our borders is Manchego. But there are a great variety of them, most of them strongly rooted in the regions where they are produced. Most artisanal cheeses used to only be available in their regions of origin, but nowadays, thanks to the boost in the sector, they can easily be found in delicatessen shops and have even started being exported.
During the prestigious World Cheese Awards 2013, 11 Spanish cheeses were awarded SuperGold, ranking among the top 58 best in the world. This isn't only the result of centuries of labor, but to the daring effort of the Spanish dairy industry which has spent years exceeding itself to achieve the highest quality products.
The Spanish dairy sector annually transforms some 6.2 million tons of cow's milk, about 600,000 tons of sheep's milk and 500,000 tons of goat's milk. Of the 380,000 tons of dairy products Spain exports, for a value of euros 690 Mill., 42,000 tons are cheeses whose value reaches euros 218 Mill.
But the dairy sector in Spain is far more than just cheese and milk. The latter has experienced a great diversification, both in its products (yoghurts, dairy desserts, curds, etc.) as in its formats, designed to make the consumer's life easier.
Apart from dairy products, snacks and nuts are a fun food option. A truly Spanish pastime, practiced at all ages, is peeling and eating sunflower seeds, a very healthy snack which is usually salted and toasted. Another typical Spanish snack is quince jelly. This fruit, brought to Spain by the Greeks and Romans, became very popular in the 12th century at the hands of the Sephardic Jews who used it extensively in their cuisine. Nowadays, quince jelly is a true classic of Spanish gastronomy. It is made just like ordinary jams (the same proportion of fruit to sugar), but its finished texture is solid, so it can be cut with a knife and served with cheese, both fresh and cured, or with nuts, etc.
An original snack from Málaga is fig bread, whose origins are probably Arabian. This dessert, made with dried figs, almonds and herbs is traditionally eaten at Christmas. But apart from these there are numerous dishes made from dried fruit, nuts and sugar to sweeten the palate of the Spaniards.
Sales of nuts, dried fruit and snacks in Spain reached euros 1,995 Mill. in 2013. Almonds, nuts, hazelnuts, pine nuts and peanuts are top sellers in Spain, with a market share of 37.2%. Other snacks (potato chips, puff chips, tortilla chips, etc.) don't lag far behind. In recent years a number of new of formats and flavors have been launched on the market. As well as imported flavors such as ketchup and cheddar cheese, many Spanish ones such as Serrano ham or garlic have been added.
The majority of manufacturers of these products (22%) reside in the region of Valencia, since it is a great producer of almonds. It is followed in terms of importance by Catalonia, Andalucia and Castile and León. In 2012, 110 companies were grossing over euros 1 Mill. And although the top 5 accounted for 41% of the market, a huge number of smaller companies – primarily family businesses whose activity is confined to their town or province – manufacture handmade potato chips, caramelized almonds, toasted sunflower seeds etc.